Family Lawyer from Vetrano | Vetrano & Feinman LLC Helps Bring Community Mural to Life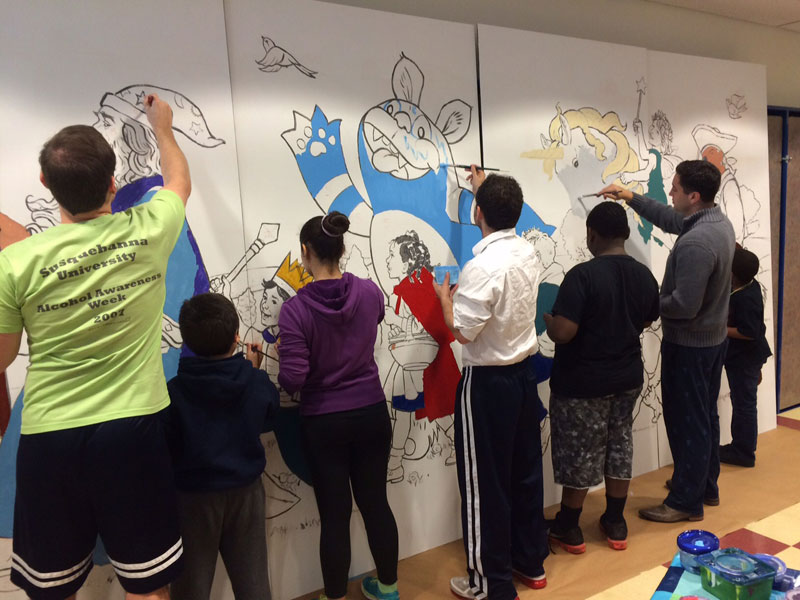 Lindsay C. Hanifan from Vetrano | Vetrano & Feinman LLC, recently participated in the creation of a public mural in Norristown, Pennsylvania.
King of Prussia, Pennsylvania – November, 2015 – On Saturday, October 3, 2015, Lindsay C. Hanifan from Vetrano | Vetrano & Feinman LLC, organized volunteers from the Montgomery Bar Association's Young Lawyers' Section to assist local elementary school children in painting a mural that will be forever displayed outside of the Montgomery County-Norristown Public Library.
The eight foot by sixteen foot mural was made possible by a grant from the Norris-town-based Arcadia Foundation and sponsorship by the Montgomery Bar Association, and features a multicultural take on many classic storybook characters. Local artists Michael Adams and Susannah Hart Thomer sketched the piece, and got the help of more than twenty children, library staff and  a group of young lawyers to assist in painting the mural.
Lindsay C. Hanifan, who served as the Young Section Lawyers point person for the event, was quoted in the Lansdale Reporter, stating:
"As part of the Montgomery Bar Association, we're based in Norristown, and we all live or work in the local community, so we're happy to work on such a terrific community project, especially something that involves children," Hanifan says. "Most of us spend our days doing analytical work, so the opportunity to work with children on a project like this is a nice change from what we normally do…. I remember doing a similar project in (Hillside Elementary School in Berwyn) and how excited I was. The nice thing is, every time these kids pass the library, they'll be able to look at the mural and say, 'I helped do that.'"
Vetrano | Vetrano & Feinman LLC is very proud to be part of special service  projects like these that bring people together to help the community. For more information on other events we have participated in , please view our website at www.vetranolaw.com.
About Vetrano | Vetrano & Feinman LLC
The divorce lawyers at Vetrano | Vetrano & Feinman LLC maintain that a "good divorce is not impossible." In order to create a healthy family environment after a divorce, our family lawyers understand  how a pending divorce affects the needs of each family member. In addition, a committed family law firm can help generate a smoother transition from complicated situations to a new normal. King of Prussia's Vetrano | Vetrano & Feinman LLC family lawyers recognize that divorces are a difficult, but they endeavor to facilitate as smooth a process as possible. We trust that you will find our family lawyers empathetic to you and the turmoil you may be facing.
Vetrano | Vetrano & Feinman LLC
 
630 Freedom Business Center Drive, Suite 215
King of Prussia, Pennsylvania, 19406
Phone: 610-265-4441
Fax: 610-265-1120
Website: https://www.vetranolaw.com/contact-us/
Need to Talk to Us?
Our experienced family lawyers take the time to fully understand the financial and emotional complexities that can be involved in separating two lives. We offer the patience and resources to effectively guide clients through a divorce, addressing all the challenges they may face in moving forward with their lives. To learn more about how we can help protect your rights and interests in a complex divorce, contact the Pennsylvania divorce attorneys at Vetrano | Vetrano & Feinman LLC.