Family Attorney Lindsay Childs Spoke On Podcast About Second Saturdays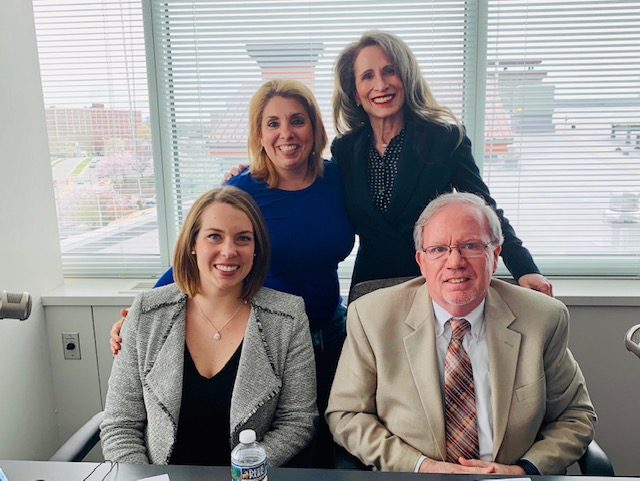 King of Prussia, PA — May 30, 2019 —Vetrano family attorney Lindsay H. Childs recently participated in a podcast called "Real Divorce Talk" with 610-WWDB-Talk Radio's Dr. Sue Cornbluth, along with Tim Seiders and Jeannette M. Cutshaw, licensed marriage family therapist and certified sex addiction therapist. The talk was about the Second Saturday workshop, a program that Ms. Childs has been involved with for several years, and that is designed to help women dealing with divorce.
Tim Seiders, certified financial planner, explained that "Second Saturday is a safe place for women to come to get information. We offer hope, information and support." He added, "Women can come back as often as they want, as their needs change." The program attempts to educate women in three major areas: legal, emotional and financial.
During the podcast, which can be heard in its entirety at this link, Ms. Childs explained that during the Second Saturday workshop, she gives an overview of how the divorce process works, custody, support, division of assets, and then some frequently asked questions, such as what happens with health insurance, changing the locks on the house, and who is paying the bills in the house when someone is moving out.
Ms. Childs noted that in finding an attorney, "it's important to have a connection with the attorney, so you shouldn't feel bad if you consult with or interview multiple attorneys. It's about a good fit because you do have to trust each other." Ms. Childs and her firm's other family attorneys are known for compassionate and committed guidance during the difficult process of divorce.
The Second Saturday program was created by the non-profit Women's Institute for Financial Education (WIFE). The program is intended for women who are contemplating, or who are in any phase of the divorce process. The program's leaders are committed to having a Second Saturday workshop within driving distance for anyone in the United States. For information about the Blue Bell workshop, visit https://www.secondsaturday.com/locations/blue-bell-second-saturday/. Ms. Cutshaw noted that although Second Saturdays are only for women, a workshop in Conshohocken is held for men seeking information and support on a quarterly basis on the second Tuesday of the month.
Ms. Childs will be speaking at the next Second Saturday workshop in Blue Bell on June 8, 2019.
About Lindsay H. Childs, Esq
Lindsay H. Childs, Esq. is an associate Blue Bell family attorney at the law firm Vetrano | Vetrano & Feinman LLC. She limits her practice to family law matters, including divorce, custody, and support. Ms. Childs was recently elected as Treasurer of the Montgomery Bar Association's Family Law Section. She is currently in her second year of a 3-year term on the Board of Directors of the Montgomery Bar Association, and recently completed the training to be a parenting coordinator.
About Vetrano | Vetrano & Feinman LLC
Vetrano|Vetrano & Feinman LLC is a premier divorce and family law firm that provides comprehensive legal assistance for family law matters, from prenuptial agreements to divorce and custody issues. All of the members of Vetrano's skilled and experienced team of Blue Bell divorce and family attorneys understand the impact of divorce on their clients.
For more information about Ms. Childs or Vetrano | Vetrano & Feinman LLC, call 610-265-4441 or visit https://www.vetranolaw.com/.
Need to Talk to Us?
Our experienced family lawyers take the time to fully understand the financial and emotional complexities that can be involved in separating two lives. We offer the patience and resources to effectively guide clients through a divorce, addressing all the challenges they may face in moving forward with their lives. To learn more about how we can help protect your rights and interests in a complex divorce, contact the Pennsylvania divorce attorneys at Vetrano | Vetrano & Feinman LLC.