Vetrano & Feinman LLC Announce Kate Vetrano and Sarinia Feinman as Winners of Suburban Life's 2016 Top Attorneys for Divorce/Family Law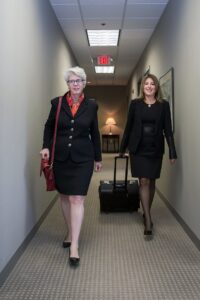 May, 2016 – King of Prussia, PA— In the April 2016 issue of Suburban Life Magazine, editors published the results of a survey; recent clients of Main Line and Montgomery County area attorneys were polled to determine the Top Attorneys of 2016. Vetrano|Vetrano & Feinman LLC had two attorneys selected to the 2016 Top Attorneys list, as family lawyers that Main Line area residents rate as exceptional – Kate Vetrano and Sarinia Feinman.
The Suburban Life list of Top Attorneys shines a light on "Justice Seekers," who are skilled and respected attorneys who fight for what's right, both in and out of the courtroom. Honorees help clients through the most troubling times in their lives, using legal expertise and compassion to ease the stress of their situations.
Kate Vetrano has been a family lawyer that Wayne area couples turn to since 1981. Her commitment to preserving the family, even during the dissolution of the marriage, established the tone used by the attorneys at Vetrano|Vetrano & Feinman LLC. Ms. Vetrano became a founder of the Collaborative Family Law Affiliates, an organization that promotes collaboration and mediation in divorces, rather than contentious courtroom battles. The focus on mediation allows families to more quickly move past the pain of a divorce. Ms. Vetrano's recognition by Suburban Life Magazine is evidence that her collaborative approach resonates with clients.
Sarinia Feinman was also named to the list of Justice Seekers and Top Attorneys in Divorce and Family Law. Ms. Feinman is a brilliant legal mind, who uses her skills as a speaker and writer to shape discussions about family law. As an attorney, Ms. Feinman limits her caseload to family law, with a special emphasis on children's rights during divorce proceedings. Her advocacy for special needs children brought Ms. Feinman recognition as a family lawyer Wayne families trust.
About Vetrano|Vetrano & Feinman LLC
Vetrano|Vetrano & Feinman LLC created a firm that places client service and the protection of client rights at the center of the practice. Vetrano|Vetrano & Feinman LLC's intense focus on clients brought many awards in 2016, and will continue to do so in the future.
For more information, please visit www.vetranolaw.com or call 610-265-4441.
Need to Talk to Us?
Our experienced family lawyers take the time to fully understand the financial and emotional complexities that can be involved in separating two lives. We offer the patience and resources to effectively guide clients through a divorce, addressing all the challenges they may face in moving forward with their lives. To learn more about how we can help protect your rights and interests in a complex divorce, contact the Pennsylvania divorce attorneys at Vetrano | Vetrano & Feinman LLC.