Vetrano & Feinman LLC Announces Kate Vetrano and Sarinia Feinman were voted as Top Attorneys in Divorce/Family Law in Suburban Life/Philadelphia Life's 2017 Survey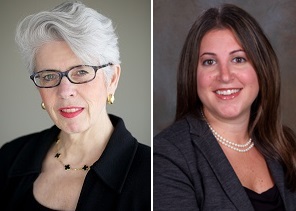 King of Prussia, PA— November 16, 2017 – Kate Vetrano and Sarinia Feinman, Main Line family law and divorce lawyers, were recently voted as Top Attorneys in the area of Divorce/Family Law for the second consecutive year.
Each year, Suburban Life/Philadelphia Life Magazine conducts a reader survey to determine the best legal practitioners in Philadelphia and the surrounding areas. The attorneys are chosen in all categories, from Bankruptcy to Divorce law. These "Legal Defenders" are then recognized in the magazine so that local residents can make more informed choices when looking for an attorney to represent their interests.
Kate Vetrano has been practicing family law since 1981. With a background in Collaborative divorce and family law, Ms. Vetrano has led her firm's associates to handle family law issues in such a way that, whenever possible, the family remains intact, even when a marriage is irreconcilable. When necessary, Ms. Vetrano is a fierce defender of her clients' rights, resulting in a strong reputation and many awards in her time as a Main Line family law attorney. Ms. Vetrano has spoken many times and most recently about Premarital Agreements for the Pennsylvania Bar Institute.
Sarinia Feinman is a partner in the firm and has chosen to limit her practice to family law issues. Ms. Feinman's advocacy for children's rights, particularly for those with special needs, has earned her recognition in her field as an experienced litigator who fiercely defends the best interests of her clients. In addition, she was recently appointed to serve a three-year term on the Pennsylvania Bar Association's (PBA) House of Delegates; and was also appointed by the Montgomery County Commissioners to serve a three-year term on the Board of Managers of the Montgomery County Youth Center.
About Vetrano|Vetrano & Feinman LLC Main Line Family Law Attorneys
Vetrano|Vetrano & Feinman LLC is a family-centric law firm serving the Main Line area as well as surrounding areas. The firm's Main Line family law attorneys are well-versed in the many aspects of family law, and help clients with issues such as premarital agreements, divorce, marital estate, divorce modifications, child custody and child support.
For more information or to schedule a consultation, please visit www.vetranolaw.com or call 610-265-4441.
Need to Talk to Us?
Our experienced family lawyers take the time to fully understand the financial and emotional complexities that can be involved in separating two lives. We offer the patience and resources to effectively guide clients through a divorce, addressing all the challenges they may face in moving forward with their lives. To learn more about how we can help protect your rights and interests in a complex divorce, contact the Pennsylvania divorce attorneys at Vetrano | Vetrano & Feinman LLC.