Vetrano Family Lawyer Sarinia Feinman was Guest Speaker at Event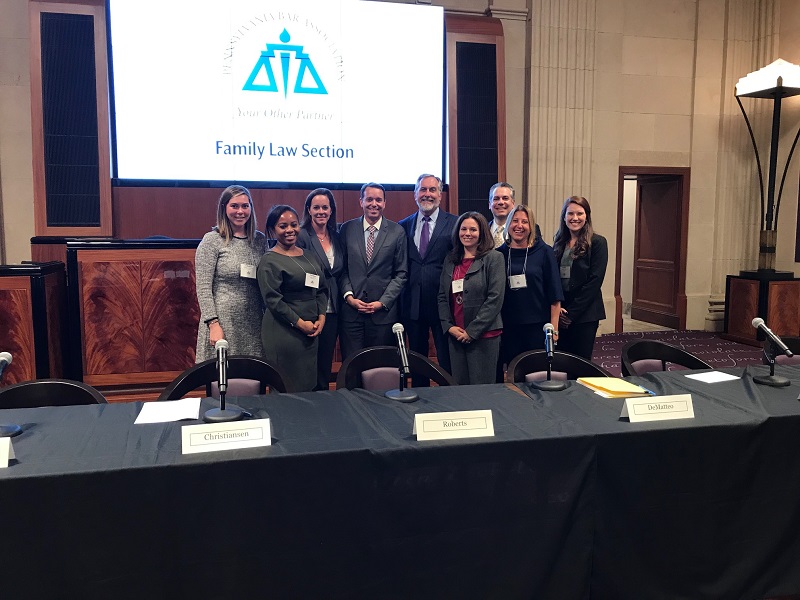 October 21, 2019 – Philadelphia, PA – Vetrano family lawyer Sarinia M. Feinman was a guest speaker and course planner at a panel discussion and networking reception for law students. The panel was held on October 15 at the Kline Institute of Trial Advocacy at Drexel University in Philadelphia, and was organized by Ms. Feinman as Co-Chair of the Pennsylvania Bar Association Family Law Section Membership Committee, along with her Co-Chair of the Committee, Christina DeMatteo, Esquire.
The event, titled, "What Every Future Lawyer Needs to Know about Landing a Job in Family Law," was intended to give law students a realistic view of family law practice, helpful advice about how to secure a job as a family lawyer, and more importantly, what the students can be doing while in law school to set themselves up on the path to a position in family law. The event also served as a way for law students to network with attorneys who are currently practicing family law.
The event was a collaboration between the Family Law Section of the Pennsylvania Bar Association (PBA) and the Greater Philadelphia Area Law Schools (GPALS). Although the event was held at Drexel University, students from other schools such as Temple, Rutgers, Penn, Villanova, and Delaware Law School (formerly Widener), were invited to register for the event.
Ms. Feinman has been a practicing lawyer since 2004 and focuses solely on family law and its various aspects. She is currently the Treasurer of the Montgomery Bar Association (MBA) and, serves on the Board of Managers of the Montgomery County Youth Center.
About Vetrano | Vetrano & Feinman LLC
Vetrano | Vetrano & Feinman LLC is a premier divorce and family law firm that provides comprehensive legal assistance for family law matters, from prenuptial agreements to divorce and custody issues. All of the members of Vetrano's skilled and experienced team of Main Line divorce and family attorneys understand the impact of divorce on their clients and work to achieve the most positive outcome for the family in each situation.
For more information about Vetrano family lawyers or Vetrano | Vetrano & Feinman LLC, call 610-265-4441 or visit https://www.vetranolaw.com/.
Need to Talk to Us?
Our experienced family lawyers take the time to fully understand the financial and emotional complexities that can be involved in separating two lives. We offer the patience and resources to effectively guide clients through a divorce, addressing all the challenges they may face in moving forward with their lives. To learn more about how we can help protect your rights and interests in a complex divorce, contact the Pennsylvania divorce attorneys at Vetrano | Vetrano & Feinman LLC.